Factors Affecting the Cost of App Development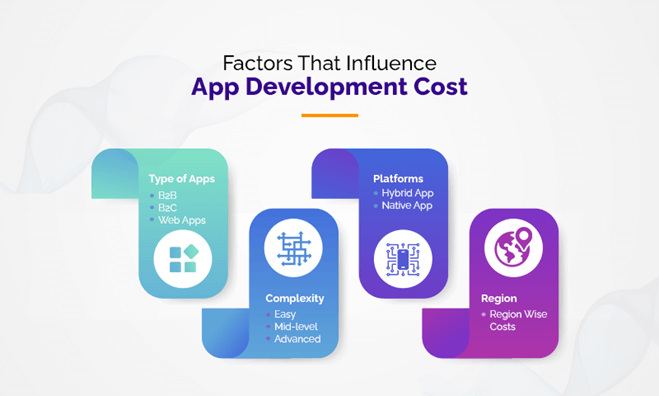 Mobile applications are complex and they require many details to be in place before the development begins. Only after you keep these factors in mind, you can find out the exact app development cost. So, you need to find out who your target audience is, what your business goals are, how to develop an app, and choose a platform that you will use for coding.
You also need to think about the number of buttons, screens, and any other special elements that can enhance your application further. Your goal should be customer engagement and convenience. However, keep in mind, the more features you pile on the more cost it will incur.
In this section, we take a closer look at different factors that affect mobile app development prices. The factors you need to think about are:
Type of Apps
Complexity Levels
Platforms
Region
Type of Apps
First of all, no one can provide an accurate figure of the app development cost since every app development company around the globe has different per hour $ rates; however, we can provide an accurate range that will cover all types of mobile applications. Here are the important factors to consider when estimating the app development cost.
The type of business app is the first factor to consider on the road to getting your mobile app developed. The two types of business apps include B2B or business to business and B2C or business to customer. Both of these app types have different target markets, different needs, different functionalities, and app business models. All these requirements factor in the price of the app being developed.
Pretty much all categories of mobile apps have been saturated; however, there is a strong influx of mobile apps on the app stores and some of them succeed in getting users' attention.
Let's see each of the types of apps and find out what separates them from one another.
Mobile App Development for B2B
B2B focuses on a business providing service to other businesses. For mobile app development, B2B apps must have a different cost to develop an app. The scope of business-to-business apps is not to serve many customers but limited businesses.
Large enterprises look for app solutions that are tailored to their business's needs and fulfill the requirements easily. To do so, these companies look for customized apps. For example, if you want to just target large corporations you will only look for the companies that are of that size and looking for what you offer. However, you won't face many thousands of customers in the B2B platform since B2B solutions are business-related and not customer-related.
B2B offers to automate business processing to target higher efficiency and productivity. On the other hand, B2C is providing solutions related to customer issues rather than business ones. To take a simple example, Google Analytics is a B2B platform that targets businesses and provides them key insights for their business activities and marketing-related activities such as paid marketing (PPC). It is a dashboard that has everything a business needs to be productive and stay on top of all relevant information.
Apps that are built keeping in mind the B2B type, often provide subscription services to companies that require limited usage for their internal use and also for external usage. Another important difference to consider is the fact that B2B apps are not accessible through Play Store or iOS App Store since they are tailored to specific organizations and carry functions that will benefit that particular organization only. In comparison, B2C apps are simple plug-and-play apps that are made for general users and provide the same benefits to all depending on whether the app is free or paid.
Mobile App Development for B2C
B2C applications target different audiences for their apps. All B2C apps are targeted towards general mobile users so they are made for all users. iOS App Store and Google Play Store are filled with B2C applications with numerous categories. Every category has now been saturated since hundreds of applications are released every day, making the competition stiff and difficult.
Further, mobile applications made for customers are focused on getting more users. The content of B2C applications is much different. It can be an entertainment app, social media app, educational app, lifestyle, and fitness app, and the list goes on. In short, every B2C mobile app's goal is to gain a higher number of customers and thus generate higher revenue.
To get higher revenue, you need mobile applications that attract users, keep them engaged and provide value against the money they have given to use that mobile app. It is not an easy feat to achieve, but with careful planning and proper market research, it is possible.
Another big difference between B2B and B2C is the need for constant updates. Customer-centric mobile applications are often updated regularly as compared with business-centric applications. The reason is simple when general users have multiple options to choose from, within the same category, it becomes really important to stay on top of the market competition. To do this, mobile applications are usually updated regularly and new features are constantly added to keep the mobile application fresh and keep users engaged.
In B2C mobile apps, the app design plays a significant role since customers are attracted to the application because of its design. The UX/UI is an essential element to consider. If the app is engaging and has a sleek and engaging design, the chances of users liking your app will be greater. Your job is to have a mobile application that can provide ease of use along with great features which can please customers.
Since customers are picky, they think twice about investing money in some application. B2C mobile apps follow two models one is the free-to-use model and the other one is paid version. The free model also is profitable since it provides advertising space and has in-app purchasing options.
Web Apps
Web applications or web apps are applications accessible through a browser. They are stored on a remote server so users don't have to download the mobile application. Web apps also save time and development costs, however, they might not be the best when it comes to having an optimized UI/UX.
Further, you can have many users access the same application from all different platforms such as laptops, desktops, and mobiles. Examples of web apps include online calculators, web email, e-commerce websites, and much more.
Complexity Levels
Complexity is the biggest factor when we talk about the cost of app development. Complexity means the amount of work needed to be done for the development of an app and whether it will take a lot of time. If an application has a lesser number of hours, it might be a basic app with simple features and basic design. However, when we talk about a higher number of hours, the app becomes more complex since the number of features add on and the final app is something every user would enjoy.
Make sure you don't pile on features that your users don't need. Proper market research is needed to determine the number of features and the type of features that are needed by users in your target audience. So, the complexity increases as you increase features and integrations in your app.
Check out the chart below to understand all types of mobile application complexities
Type of Complexity
Characteristics
Basic

No additional benefits
All basic features
Basic app design
Basic UI solutions

Mid

Complicated features
API integrations
A higher number of screens
Custom UI
Real

Complex

Allow multiple functions
Real-time synchronization and similar advanced features
Ability to add chatbots
Media Processing
Animated UI and engaging design
For mobile app development, the following team is required:
Project Manager
iOS and/or Android Developer
Backend Developer
QA Engineer
UI/UX Designer
As a rough timeline estimate, here is the expected time it would take for all types of mobile app development:
Simple Apps: It usually takes a shorter amount of time to develop simple mobile apps. It can take about 2 to 4 months to develop an app with basic features and a simple app design.
Mid-Level Apps: For this type of mobile application, the development time is usually between 6 to 10 months. The application will have some complex features.
Complex Apps: For complex mobile apps, the development time is around a year or more. Since these mobile apps have many advanced features, it takes a longer time to design, develop, QA, and publish.
Let's take a look into the different types of complexity:
Easy Complexity
Simple apps are easy to develop and less time-consuming but they might not be the best option when it comes to competing in the app stores. The app development budget for these apps is pretty low and they contain simple features/functions, less than 5 screens, and plain design.
You can expect the following options in a simple mobile application:
Login to accounts
Signup for accounts
Creating profile and editing
Search bar
Notifications
Inbox
Built-in Dashboard
Apps like these include notepad app, time tracking app, calculator app, and calendar app.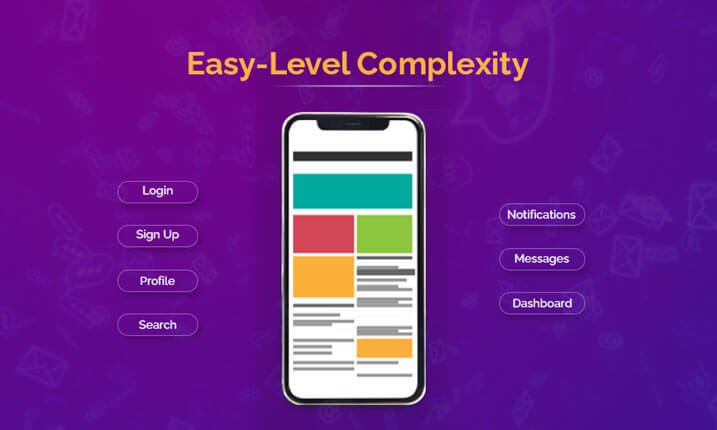 Mid-Level Complexity
The logic is simple, bigger things cost more. This is why cars are less expensive than airplanes. Similarly, a mobile app having multiple difficult features will be more expensive. To give an idea, your basic app can be upgraded with multiple features that can increase the complexity of the mobile app. The features that you can expect in a mid-level complexity mobile app are:
Integration of your app with social media platforms
Options to make purchases in-app
Payment Portals
Geo-location
Ability to use GPS
Security Enhancements
In terms of usage, mid-level apps carry higher accessibility and better infrastructure. Further, you get options like data storage, synchronized database, and much more. To build an app so complex, you must understand your customer base so you can access your price and cost range as well.
Therefore, applications such as photo-sharing apps, food delivery apps, or hail riding apps are filled with advanced features that enable a better customer experience and they also cost a lot more than simple apps.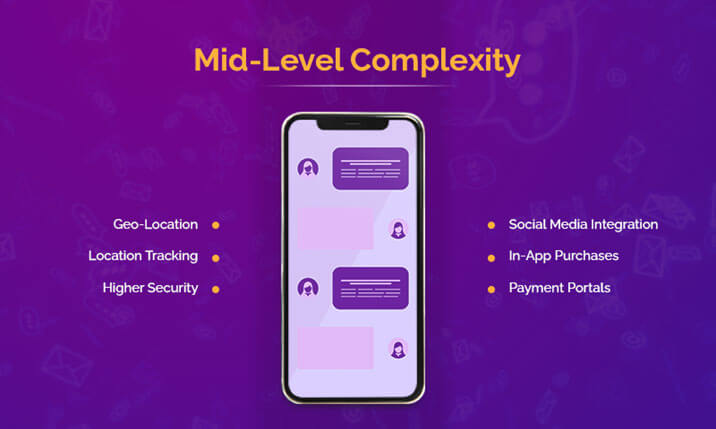 Advanced Complexity
The highly complex mobile apps are the most expensive and time-consuming ones. Such apps are usually developed for large corporations. Such applications can be B2C or B2B as well depending on the requirements.
For B2B, think of CRM applications that are specially designed for clients who want custom solutions installed in their existing systems or have an entirely new customer app developed for their business needs. B2C on the other hand has apps such as social media platforms such as Facebook, Twitter, or Instagram. Similarly, gaming apps are also from the advanced complexity category since they require extreme features, graphics, navigations, storytelling, design, characters, etc.
The cost of these kinds of mobile apps is extremely unpredictable because many factors can change the cost drastically. Let's take a look at some of these factors:
Multiple Data Synchronization
Online streaming
Native features
Calls (in-app)
Messaging
Video Calling
Design Elements
When mobile applications are advanced, their planning and research also take a significant amount of time. The company you hire to develop the app will need excessive time just to plan and research for the product to provide a result you'll be happy with.
Your app will have an in-depth dashboard that will have all the features your app needs to be more user-friendly and easily accessible for the end-users. Further, the development platform you choose will also have its difficulties along with high redundancy and availability requirements.
For an app requiring heavy customizations, the coding will be done by developers which itself is a long and tiring process. The more custom coding your app demands, the longer it would take for the app to be fully developed. Be ready for lengthy meetings to discuss your app project scope with the development company and decide on the costs that you are willing to bear.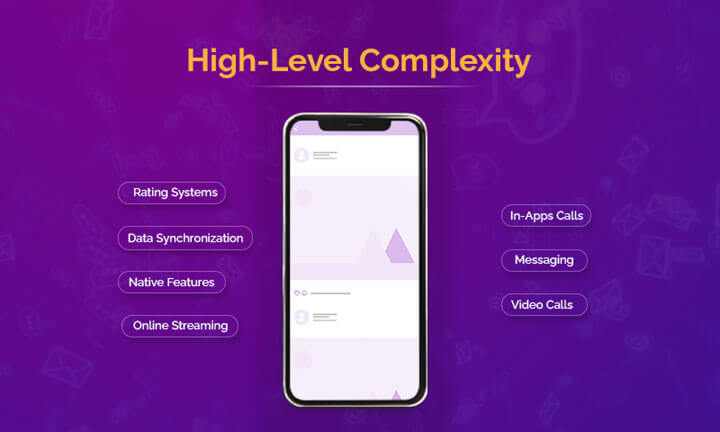 App Platforms
So far, we've discussed the cost to develop mobile applications considering the mobile app type and level of complexity, now let's move to the platforms on which you want your app to be developed.
For platforms, you have the option to choose between two platforms, Hybrid or Cross-Platform App and Native App.
Let's begin!
Hybrid or Cross-Platform App
Hybrid apps work on both, Android and iOS devices which is why they are called cross-platform apps. When your application is working on both platforms from a single development, you save time, efforts and the costs go down drastically.
There are three things you need to consider before you choose which platform you want for your apps:
Prevalence
Market Share
Fragmentation of Device
These are important when you're looking to target initial markets so make sure you pay attention to these. In terms of prevalence, you can compare iOS and Android to find out where Android is more prevalent than iOS. Similarly, you can check where iOS has a stronghold.
Both platforms have different development processes but surprisingly both of them cost pretty much the same. Now that you know they both cost the same, the important thing to decide is which platform is more profitable for your app.
For hybrid apps, your cost savings are huge since you only need to develop your app once and it can work on both platforms.
Hybrid offers great user experience, smooth operation, ability to use platform's features, and an easy fit. However, native apps are much more detailed since they are developed for one particular platform.
Native App
Native Apps run only on one platform which means you have to decide on which platform your app should run on, either Android or iOS.
If you want to get your app developed for both platforms through this option, you need two different development teams with different skill sets.
Naturally, if you have to get the same app developed twice, the cost will double in comparison with the first option (hybrid).
Both development teams will need to work on their respective Native frameworks to develop apps for Android and iOS platforms.
You understand why the cost will be high, right?
Employing double teams is a costly option; however, most of the times hybrid apps are enough to provide the quality you will be hoping for.
In some rare cases, apps will need Native development to customize the app on the platforms to provide the best UX/UI.
Moving on, the next important part of this article is to discuss the hidden costs that you need to know for mobile app development.
Regional Mobile App Development Costs
Depending on the region, the cost of development might vary due to several reasons, one of them being the different salaries of programmers and different cost standards of that region.
Take a look at the table below which indicates different rates depending on the region:
| Region | Hourly rate, $ |
| --- | --- |
| North America | $120-$150 |
| Latin America | $100-$130 |
| Western Europe | $90-$120 |
| Eastern Europe | $35-$65 |
| Asia | $25-$35 |
The difference between these prices is higher since Asia has a less average cost of mobile app development and the currency difference with the dollar ($) plays a huge part in the prices being comparatively low. North America has the most expensive mobile app development out of all others due to Canada and USA being the most expensive countries for mobile app development in this region. On the other hand, Asia has the lowest cost of mobile app development.
High cost doesn't mean high quality, you can get the same quality of mobile apps at a low price as well; however, you'll save big bucks.
Now that we have covered the app development costs by different categories and regions, let's dive into the factors that affect the total cost of mobile app development.