Mobile apps are complicated to design and even more complicated to execute. The mobile wireframe allows creating a user-friendly app with less time consumed. Mobile app wireframing is essential because it is an outline of the mobile app which you hope to develop in the future. When you're in the early stages of app development, proper planning and hierarchy of the application in the form of an elaborate layout are essential.
The main purpose of using mobile wireframing tools is to save time. Since good tools can help you develop a wireframe in a matter of a few hours and not days. Further, you have the option to test your tentative software with a bunch of people or focus groups who can help identify errors as well. You'll end up with an app that is free from errors and improve your app's overall acceptability.
There are different free wireframe tools for mobile apps which you can use in 2022. All the tools have different aims and can help you perform different tasks on the mobile app project. Depending on the usability and their functions, you should know which mobile app wireframe to use.
Earlier, the same thing was done through pen and pencil; however, as technology grew, wireframe apps became much more efficient and have totally replaced the old process. Let's take a look at our 15 best mobile app wireframe tools.
Best Free Mobile App Wireframe Tools
According to the app's design brief, different wireframe apps can be used. There are many features to consider before deciding on the wireframe tool to use for your app development. These features include functionality, usability, investment, UI, capabilities for integration, and ease of use. If the return on investment from using a certain wireframe tool is good, we can always opt for it. Let's take a look at some of the best wireframe tools to use in 2022.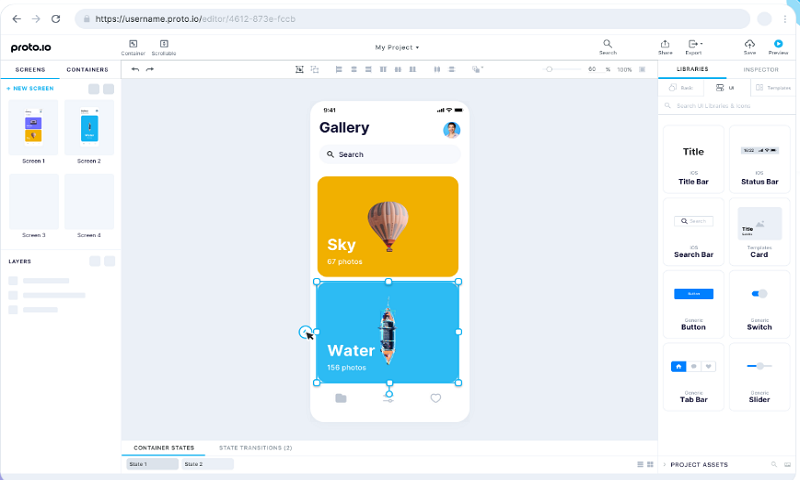 Proto.io is a mockup tool that is web-based and easy to use. It is used for mobile wireframing and developing a prototype which can help developers in finding out the app's final design and overall usability. You can create interactive wireframes through Proto.io and test out the possible UI experience for the given wireframe.
Once you have an idea about an app's final look and feel, you can use that information to further improve the app for better results in the future. Changing things in the app is easier during the initial phases, however, it can be a hassle once the development reaches later phases.
Further, this tool enables users to work with different mobile widgets and embed the wireframes into websites. Overall, it's an impressive tool for developers and can help with developing strong applications. Proto.io offers 15 days free trial.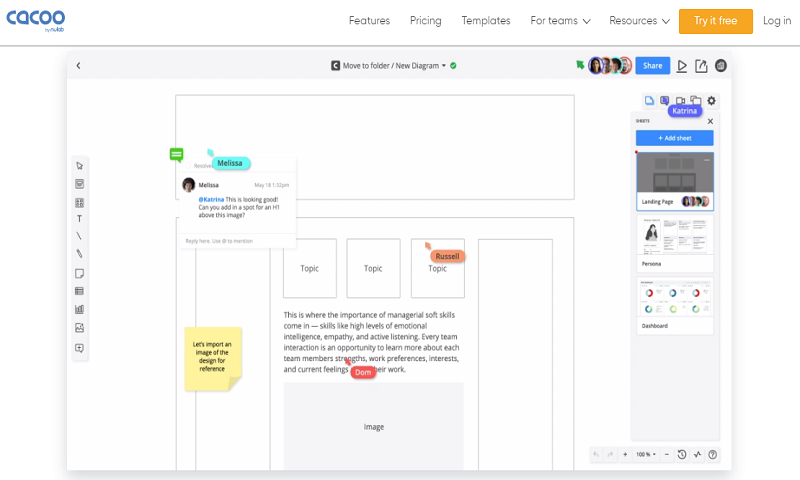 Cacoo is an exceptionally good wireframing tool built for mobile apps. It is accepted and used by many developers mainly because the features of this tool are really good. When you use UXPin, you get access to built-in libraries, easy collaboration with colleagues, option to streamline workflow and interactive elements.
Another bonus feature of this tool is the ability to use the drag and drop function. You can also import layered designs from Sketch or Photoshop creates efficiency for UXPin users. Cacoo comes with a basic free plan along with other paid plans.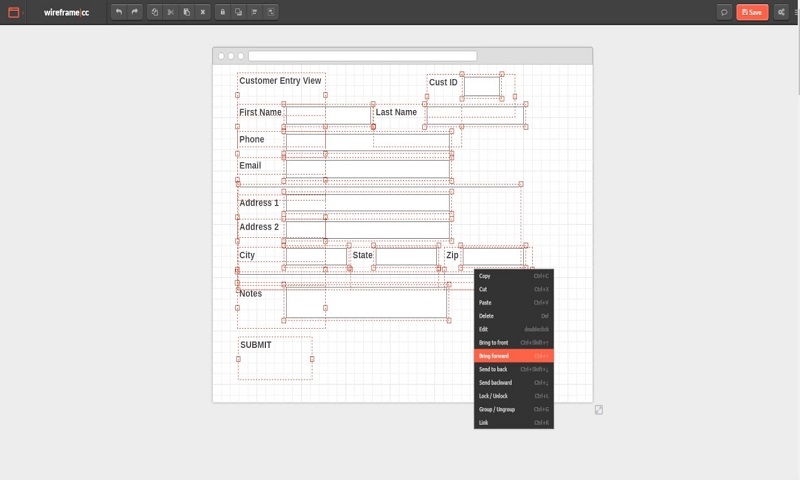 WireFrame.cc is a free web-based wireframing tool for a mobile app that is fairly easy to use. The users can work on wireframing process much faster with the help of this app since the UI is minimalistic and features are limited.
WireFrame.cc allows you to use different color palettes, drag and drop functions, and a built-in template for a quicker process. In terms of sharing options, you can share your progress with other team members or clients for review and feedback process.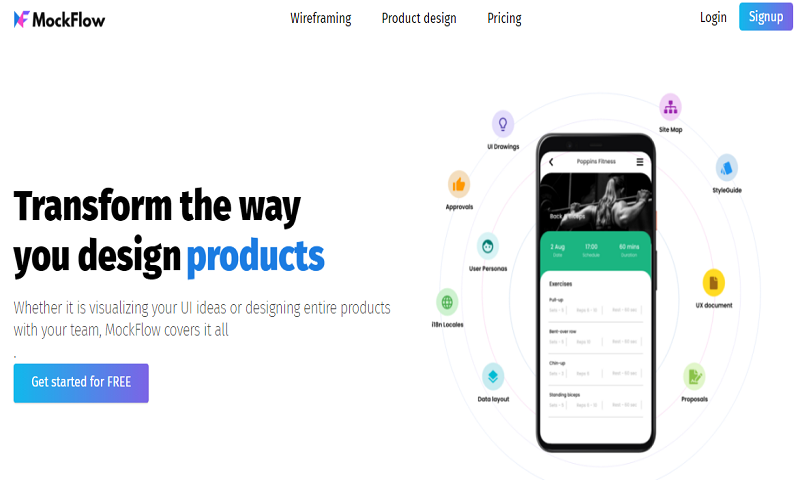 Mockflow is a free wireframe tool that allows developers to collaborate and design on UI faster with its easy-to-use features. In terms of automation, Mockflow can automatically generate design specifications and documentation.
As with many other tools, there are built-in templates that developers can use to start working on designs. Through the cloud-based service, developers can comment, edit and give feedback in real-time. You also receive the ability to customize designs according to your requirements.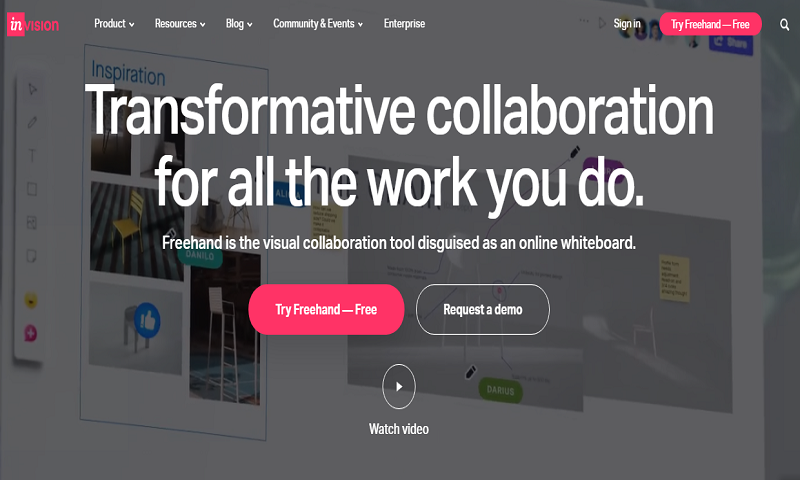 InVision is another free mobile wireframing tool that has many features and a good UI. Developers can easily make interactive wireframes and mock-ups with less time consumption. The collaboration feature allows users to text message and work well with the team.
There's a digital whiteboard present within the tool to allow users to brainstorm new ideas. Further, developers can drop down pictures from their Google Drive, Dropbox, or computer to use it within the tool.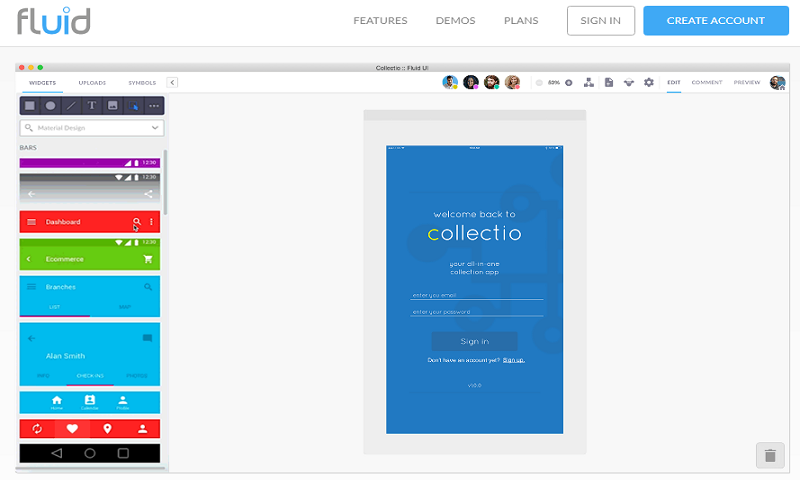 Fluid UI is a free wireframing tool developed with CSS, JavaScript, and HTML5 technologies. Developers can create unique layouts by using the built-in library provided by Fluid UI.
Fluid UI is used for both, web and mobile app wireframing and allows users to link screens to see the whole process smoothly. Along with sharing, collaboration, and feedback features, this tool also allows video presentations. You can easily present your design to clients and receive live feedback.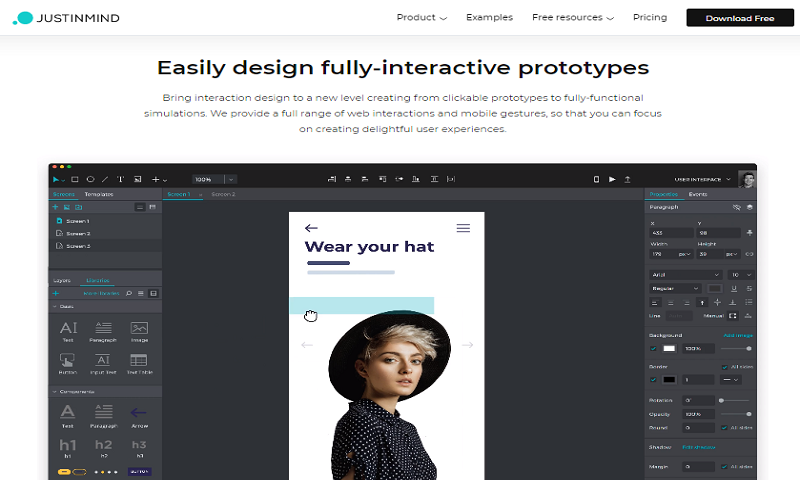 JustinMind is an all-one free tool designed for mobile app wireframing. It can make engaging and responsive prototypes which means that the UI elements and wireframes can be adjusted according to the screen resolutions.
The biggest advantage of using this tool is the ability to test the designs with users. Thanks to the updated UI kits that are built-in, the process of designing becomes hassle-free.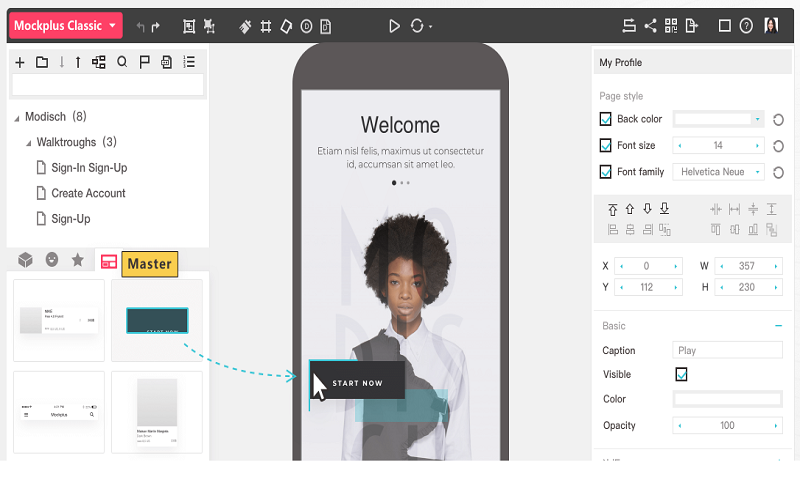 MockPlus is a prototyping tool that enables developers to design and collaborate with the help of a fast user interface. To increase productivity, the tool comes with free templates of designs that can be used for iPad, iPhone, and Android.
Developers love a tool that allows testing the design. MockPlus comes with the feature of testing on real devices through scanning a QR code. In terms of icons and components, the tool has more than 3000 icons and over 200 components for developers to use.


Axure is a wireframe tool that allows users to set user experience flow such as conditional flow, animation, and adaptive views. It is not limited to wireframes and prototypes but also allows creating user journeys, diagrams and flowcharts.
The diagrams are interactive in Axure since they can be made through UIs, sitemaps, and HTML. Team collaboration is also supported by Axure so you can work freely with your colleagues and receive feedback on the work done.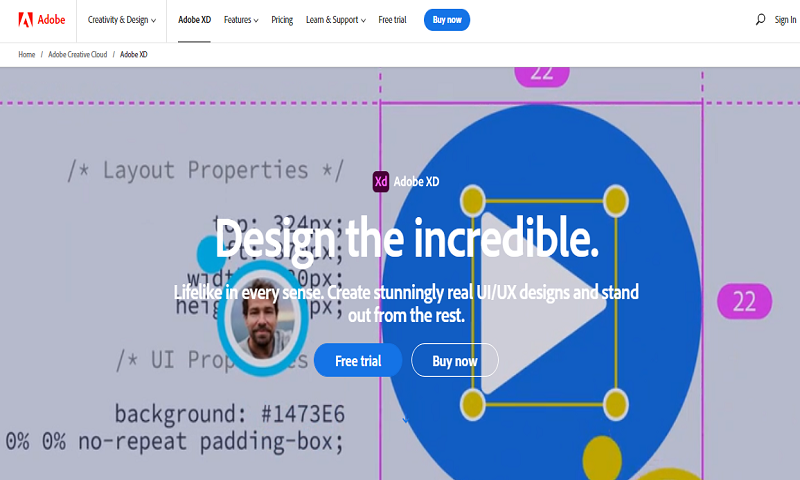 Among all mobile app wireframe tools, Adobe XD is an all-purpose tool that has various features and functions to help developers with the design and wireframing process. It is loved by most developers since it comes with exciting features such as the ability to add animations or interactions to static designs.
It also allows integrations, tooling, chatting, building interactive wireframes, collaboration, and sharing of designs.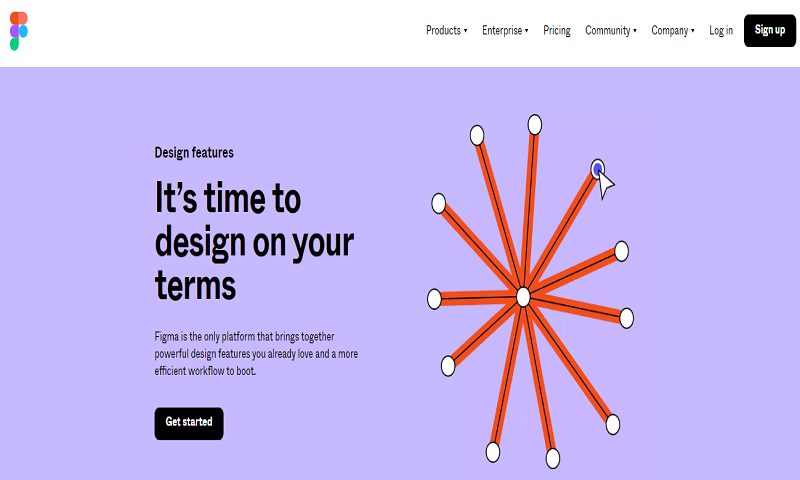 Figma is ahead of many other wireframe apps since it allows automation of layout based on the developer's designs. The tool comes with plugins that help automate repetitive tasks which saves time for the developers and makes the process easier.
Team members can work on the same project with the help of Figma since the changes are saved in real-time in the cloud. Further, the UI elements and other artboards are saved as well. Figma is a famous choice because of its instant arc designs as well.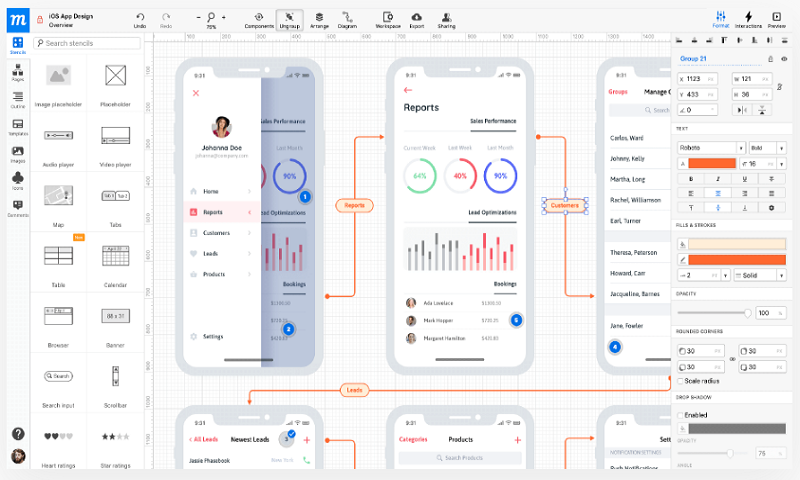 Moqups is a fairly easy-to-use app that allows developers to create diagrams, wireframes, mockups, and prototypes. The collaboration feature allows team members to work simultaneously which improves productivity.
Moqups has a cloud-based feature that allows users to avoid downloading or uploading files. The unique interface enables smooth collaboration and feedback process as well. Developers can also use the smart shapes and widgets that are built-in to create exciting designs.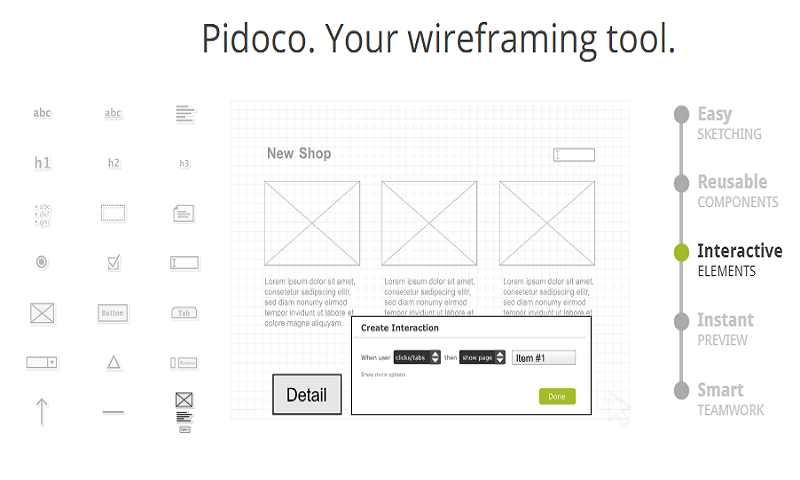 Pidoco is one of the most advanced wireframe apps used to create interactive wireframes and prototypes. Pidoco supports keyboard entries, location data, touch gestures, and device motion which enables developers to prompt configurable reactions.
Developers can also test prototypes on iOS and Android which can help in making the final app better for the users. You can collaborate with other team members on a project, comment, and share screens simultaneously.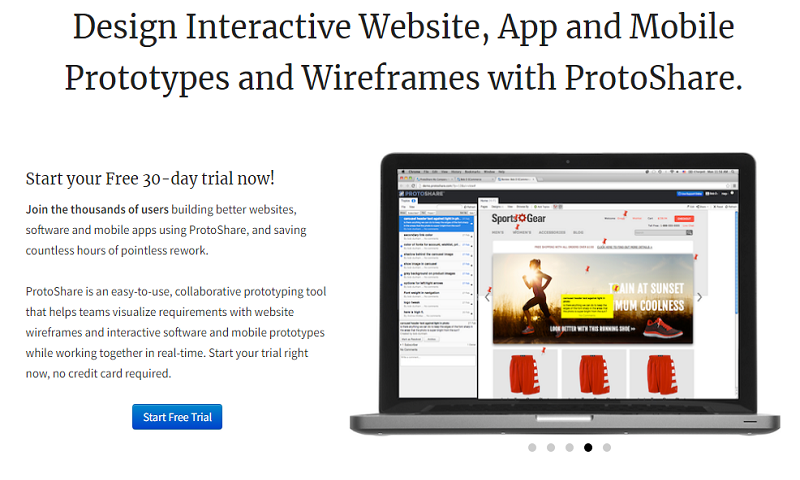 Protoshare is among the best mobile app wireframe tools since it allows the creation of website wireframes, mobile prototypes, and interactive software as well. In terms of the interface, developers have a lot of options to work with.
Component palette, wireframe stencils library, different designs, and adding images are all part of Protoshare's interface. Different templates are also available for users along with a real-time collaboration feature that helps with productivity.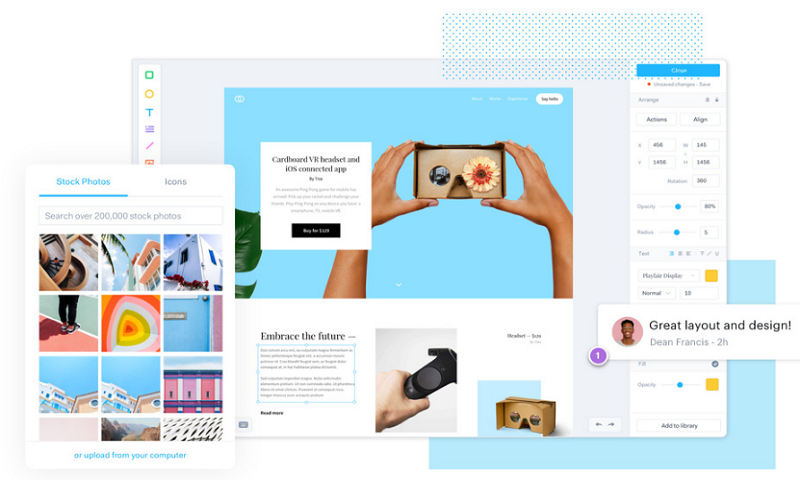 Marvel App allows developers to prototype, wireframe, and design with its intuitive layout and creative tools. It also allows integration with many different tools which makes the experience better.
Validation of designs can be done at a good speed and the collaboration feature helps with a smooth workflow.
Wrapping Up
For developers, these tools are productive and efficient so they should be used to make an outline of applications. Modifying the layout and designs becomes much easier through these tools when the application is in the development phase.
As a guiding tool and overall output, mobile wireframe tools are lifesaver. In order to create a better user experience, an app must be tested with a focus group to find errors that can be rectified in time.
Developers can create designs easily and integrate different tools to help the process. This information will help you discover different tools and their features so you can decide which one suits you the most.