Many businesses are looking to convert their website to app these days. It is an easy way for companies to enter a whole new market of mobile apps which is lucrative. The chances of success on the App market are not confirmed. The App Store market is already saturated with many different apps every day that are available for users to download. It is becoming increasingly difficult to find ways to get users' attention.
Without any doubt, smartphones are game-changers for every industry and every business. With the ability to stay connected 24/7, users come in contact with many promotions and advertisements. Smartphones allow quicker information about anyone and anything – including brands.
You can directly access brand websites to explore products or services. According to research conducted by Statista, in 2021 mobile devices were responsible for more than half of the traffic on websites. Since there are many users for mobile devices, it makes sense to make website into app. This can bring multifold benefits for your business.
Let's say you have a website. It works quite well but does not provide a good user experience on mobile devices due to lack of responsiveness, you need to turn website into app. Apps are the most appropriate when it comes to good responsiveness and providing the best user-friendly mobile experience.
Providing your customers an alternative for your website will enable a better user experience and you can have the app optimized for your selected App store for best performance. In this article, we will discuss how to create an app from website. We'll cover the feasibility of a mobile app for your business, selecting the right App Store, things to consider before committing to the process, and finally, the step-by-step process of making a successful web to app.
So, without further ado, let's begin.
Mobile Apps – An Opportunity
Mobile applications are profitable for companies and customers as well which is why more than a third of SMEs already have an app for their business. Here are some of the perks you get when you create app from website.
Ease of Use
Mobile apps allow users to directly engage with that particular app in a quicker and much more efficient way. When you interact with a website, you need a series of navigations before you can get the information that you wanted to access. Sometimes you need to open multiple tabs just to fulfill one task. Having fewer barriers than a website, App content is always easier to reach and definitely effective.
The image below shows the amount of time each user spends on apps as compared to browsers. The difference speaks for itself and confirms that apps are used more comparatively.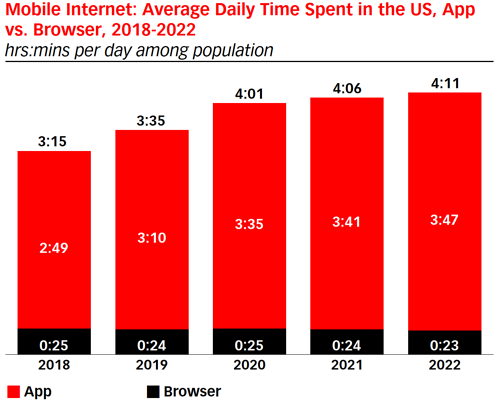 SEO
Search engine optimization allows Google to show relevant pages to users according to their search keywords. If your website is converted to an app, more users will view your website since most users surf the web through smartphones these days. Google is pretty smart, it can show your app as an "app pack" when users search for your brand on their mobile devices.
Mobile-Friendly Interface
The biggest advantage of having an app is it provides a mobile-friendly interface that helps users to engage with the app easily. Often websites that have mobile versions are slow and unresponsive, which becomes a big issue. If users can't get the same experience from your website's mobile version – it is really bad for business.
Even if your website is not optimized for the best mobile performance, you don't need to start from scratch and invest heavily into this. The best option is to turn website into app and get a mobile variant of your website that caters the mobile phone users in an effective way.
App Stores - Choosing between Android or iOS
Android and iOS platforms contain App Stores that are responsible for 99% of the app market worldwide. The share of the Android platform is pretty huge compared to iOS; however, iOS users are likely to spend more money on apps from in-app purchases compared to Android users.
You should consider every detail before choosing which platform is best for your business. Having your app on both platforms is always an option since you can cover 99% of all app users in the world.
Another important thing to consider is the location of your desired users. If your users reside in US or Japan, iOS might be the better option for you since iOS is used predominantly in these two countries.
In the case of choosing both apps, you'll need different coding for Android and iOS. Getting your app published on Play Store might be easy but the iOS App Store has strict guidelines which you must follow down to the t.
What to Consider When You Turn Website into App
You can use several tools that will achieve your goal of converting web to app. The biggest drawback of such services is the fact that the quality will be hugely compromised- leaving you with an average user experience. This is why using such services is never a good idea. Instead, developing a native app is the best approach. Here is the list of things to consider.
Development Cost
Apps that are built from scratch take time, effort, and money. It is not an easy task and you need a team of developers to handle this task. It is better to understand the costs associated with building an app before moving forward.
Screen Size
Screen sizes are important when it comes to developing apps. There are different types of mobile devices and tablets that come in different shapes and sizes – so screen size matters a lot. Optimize the app for all screens.
Search Presence
Encourage users on your mobile to use your mobile app for a better mobile experience. You need to make customers aware through pop-ups on your website.
How to Convert Website to App
1. Check if an App is Required
Mobile app development is a long process as we already discussed. The first thing you need to do in order to get started is to determine whether you actually need to convert website to mobile app. The best way to do that is to check your website's mobile version and see if it is mobile-friendly. In case your website is already optimized for mobile phone interface, you probably don't need to turn website into app.
In order to check this requirement, you need to ask yourself questions such as:
• Is my website mobile-friendly?
• Is it easy to make my website mobile responsive?
• Does my website provide the same functions as an app would?
• Do my customers prefer website or mobile app?
• Any mobile apps among my competitors?
2. Required Features for Your App
Features are important for every app but not every app needs every feature. You need to research which app features are required in your app so you can stay within your budget and save costs in the app development process.
If you include features that are not really useful, it will bring down your app's likeability among users. So, it is important to carefully vet this process and come up with a features list that will provide the most value to your users.
3. Hire a development team
In order to build a quality app, you need a quality app development team. You have two options when it comes to app development. Hiring a professional team in-house or outsourcing to skilled experts. Depending on your budget you can choose either.
For both options, you can compare the pros and cons. For instance, an in-house team will cost you a fortune however, it will be solely focused on you and your app. If you want an app specifically catered to your needs, you should choose an in-house team.
On the other hand, outsourcing is cheaper. You can find many developers remotely at rates that suit your budget well. However, you lose control over the app development process. So it comes down to trust that the person you hired was the correct choice.
In case of outsourcing app development, make sure to conduct regular meetings and take follow-ups to make sure everything is on track.
4. Estimating App Development Costs
Estimating the costs expected for the app development process is crucial. If your app is complex, you will incur heavy costs. Keeping your app simple and engaging is a good idea to stay within the set budget.
If you find yourself going above your set budget, you can always revise the list of features you selected and add some of them for later versions of the app.
5. Create a user-friendly UX design
UX design should be user-friendly which is why you need a mobile app instead of a website. You should focus on building an app interface that is engaging and interesting for users. Your goal should be to provide users with an app that is more responsive than the website itself.
In case your website is more responsive than your mobile app, it defeats the whole purpose of converting your website into an app.
6. Test your app
You need to test your app for bugs or any errors that can impact the user experience. Your end goal is to provide an app to users that they can be happy with. Testing your app allows you to fine-tune your app into something you can be proud of as well.
This practice will retain users who would otherwise uninstall your application to meet with few errors in your application. It is essential that you manage all problems during the testing phase since it will save time for your support team from having to respond to any customer complaints.
7. Submit your app to the App Store
Finally, once everything is in order, you need to submit your app to your select App store. Both app stores have different guidelines on how to submit apps and what the interface should look like. For iOS, you need to follow a stricter format in order to get your app approved. After your app is reviewed for quality and interface, your app will be approved and will be available to download.
So, there you go!
Follow these simple steps and learn every important detail given in this article to convert your website into an App.
Good luck.