When we talk about MVP, it is important to look at some of the historic events that paved the way for this concept. Simply put, MVP stands for a minimum viable product. This is a concept which businesses now use to check the viability of an idea or business with minimum effort. In app development, MVP is applied by introducing an app that contains only the basic features and UI.
This helps save extra efforts and huge costs that go into developing a full-fledged app. An MVP app will allow developers to see the viability of their idea and how customers are responding to it. With constant customer feedback about the new app, developers can decide whether to continue their app and develop it further or to stop it completely. This saves a lot of time and money.
Most companies also adopt the MVP approach nowadays since it is always wise to check the depth of water before going all in.
Similarly, in the case of gaming apps, many developers introduce basic apps with basic functions to check user feedback. In order to make it effective, few countries are chosen for sample data where users can easily find and download the new game. However, once the MVP stage is finished and viability is measured to be good, the entire app is developed and made available in other countries as well.
If you look at history, many companies which are now successful had only basic or limited features that they offered to early users. Facebook is probably the biggest example of this since the company started as 'TheFacebook'. Its job was only to show users the pictures of other students and decide whether someone was hot or not. Since the idea was quickly shut down by Harvard executives, the team came up with another idea for Facebook.
The MVP approach is visible in this startup because Mark Zuckerberg and his team only allowed limited colleges to be on Facebook and interact with each other through this social media platform. Once they saw that their idea has quickly gained momentum and is being used by other colleges as well, they allowed everyone to use it who was age 13 or above.
If you're looking to build an MVP, this guide is for you!
What is the Minimum Viable Product?
A minimum viable product (MVP) is a product that contains basic features. These features are generally basic features that every product or app should have. The idea behind launching an MVP is to test the waters i.e. testing the viability of an idea. With this, companies can ensure their resources, time, and money are not wasted on an idea that has no future. Many products or apps are launched every single day however, the failure rate of new ideas is much higher than the acceptance rate. This is why businesses practice launching MVPs in order to see whether their product will be successful or not.
After MVP is launched, a company gets early adopters and captures the market in order to grow in the future. Initial feedback or comments from users help companies decide whether their product has a chance to survive in the long run. Further, it also helps in fixing bugs before the full version of the product or app is released for everyone to use. Finally, the company also takes suggestions from users in case they want specific new features which the company can add to attract more users.
In short, you create a competitive advantage from the get-go, test the product with actual users, and integrate the feedback and suggestions into the final product.
MVP Development Process
In terms of mobile application development, MVP is a mobile application that only contains basic features for users. The MVP development process helps companies to mitigate risks associated with launching a new product that has uncertainty about its success. If you follow the proper MVP development process, you will be able to dodge any unwanted risks and avoid huge failures.
This will help you to focus on improving products for users while taking a minimum amount of risk, financially. When the testing, designing, and delivery of the final product is taken care of through MVP, businesses can relax knowing that the outcome will be favorable. Let's look at some of the benefits that MVP product development brings.
Business Benefits of MVP Product Development
When you build an MVP, you go through a process that ensures minimum risk and higher customer feedback. In today's market, MVPs have become almost a prerequisite for successful new product development. The benefits include:
- Business Core
MVP allows you to focus on what's important. Having limited features allows businesses to invest their time and money in a calculated way rather than risking it all.
- Testing
MVP allows initial testing of the basic app so you know which idea is viable. It is important to save the production budget for the idea which has a higher chance of succeeding and it can only be done through MVP and early testing.
- Feedback and Suggestions
After conducting early testing, user feedback and suggestions can be used to find out what the users actually want. If there are bugs or errors, they will also be reported by users. This way, you can ensure that the end-product is free from any bugs or errors and contains all the features that users want.
- Market Validation
While it takes a long time to develop an MVP plan, the process definitely pays off. The minimum viable product can help businesses choose the right app for the target market. It also presents a chance for your app or product to showcase itself and show users why it's different than other competitors' apps or products.
- Time Efficient
When you develop an MVP, your app will be deployed in less time. Ultimately, this practice will reduce the cost of getting the app onto the app stores. The quick deployment will also allow faster feedback that can help developers in publishing the updated version in a short amount of time.
- Budget-Friendly
Budget is a big consideration while developing an app. There are many costs that come with developing an app and getting it published on Google Play & App Store. MVP is extremely budget-friendly since the app will only contain minimal features that automatically reduce the cost ten folds. Once your idea is tested and you have concrete evidence of its positive viability, you can spend a bigger budget on deploying a full-fledged app.
Not surprisingly, the app market is constantly growing for the last 10 years and it is only going to grow further. Having many app markets presents an opportunity for users with multiple options to choose from, however, the same opportunity is a threat for companies since the competition is becoming stiff. With a heavily saturated apps market, it is difficult to get your app noticed by users. Let's take a look at how to plan for MVP minimum viable product.
How to Build an MVP?
Forums such as Quora have many queries regarding MVP and how basic the app or product has to be for MVP to succeed. Technically, the more error-prone your first product is, the better it is for your business. Since you can identify any problems in the initial phase, it is likely that your product will be successful later.
It is a common problem for entrepreneurs to solely focus on the M of MVP which is minimum and ignore the V which is variable. People just want to invest as little time and effort as possible, however, it is not that easy. If your sole focus is to save the costs, you will end up with a product you'll be embarrassed with. On the other hand, if you maintain a balance of M while keeping the V in mind, your product has a higher chance to be an excellent one.
Sometimes business startups register free sub-domain websites and copy content while expecting something good to happen. Without any effort, there is no chance of success. Similarly, for an MVP to work, you need to do the bare minimum of the process then you can expect some success. We have broken down the process of building an MVP for you, make sure you follow them correctly. Let's check it out.
Step 1: Market Research
Market research is the first step of this process. Without research, your idea is destined for failure. Once you study the market in-depth, you can find out the patterns and opportunities that you can use to your advantage. While conducting market research you can ensure whether your idea has already been used by someone else. Ensuring originality is important since you want to attract users based on the app or product you're offering.
An original idea can be good for the business however, not all original ideas succeed. You need to keep an eye out for competitors and their products or strategies which you can use for your own business as well. If you simply copy competitors, it might not work out. Further, you can conduct surveys to find out more details regarding your idea and what users actually need.
An article revealed that most startups fail due to a lack of market need which can be easily tackled with in-depth market research. Your product or app should deal with the problem and have the features that are in-demand – only then you can hope to succeed in this competitive market.
Step 2: Value Addition
In this step you need to think about the reasons behind users buying your product. Ask yourself questions such as, how would users benefit from this app? Does it have the features that are needed? How can I give users extra value? Once you've answered all these questions, you'll end up with a value proposition of the app. This process will help in identifying the features and benefits that users will receive from your product or app. With accurate estimations, you can successfully move to the next step of the process. An MVP built on user needs will definitely attract them the most.
Step 3: User Flow
In this step, you will go through the design process which is imperative to your final MVP product. Mapping out the user flow is an important part since it can help make the user experience better and provide a convenient app for them to use. In order to go through this step carefully, you need to think from the users' perspective and how they will interact with the application. For your MVP app, you need to ensure that all basic tasks are easily done and the process of using the app is interesting.
Step 4: Prioritize MVP Features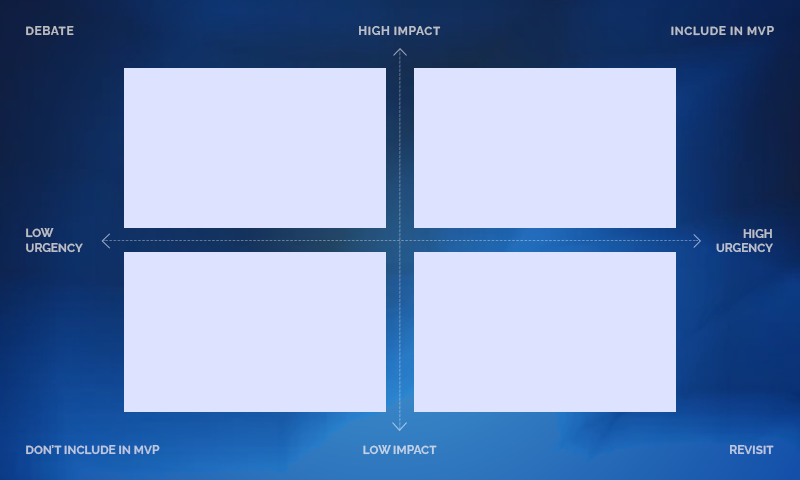 Use the prioritization matrix to assign the importance of features that your MVP must include. Naturally, features with low impact and low urgency should not be prioritized. Whereas, features with high urgency and high impact should be included in your MVP. Once you set a priority, it will be easier for you to choose the essential features that will add value to your MVP.
Step 5: Launch MVP
Once everything is in order, you can create an MVP. It does not mean that your MVP will lack quality, it still needs to fulfill customers' needs. The user experience, user interface, and ease of use must be considered before launching your MVP.
Step 6: Build, Measure, Learn
The final stage in this process is to ensure the quality of your MVP since it can affect the overall user experience. Feedback goes a long way in the development of your final product. There must be a feedback channel that can determine user experience comments and also check for suggestions.
Conclusion
Developing an MVP can be quite a difficult task. However, with the help of the above-given process, it should not be as difficult. Make sure you follow these steps and strategies to plan your minimum viable product. Everything is part of the process, the hard work you do while planning your MVP will be useful in the final product stage.
All you need is a good MVP developing company!