With invent of artificial intelligence, face recognition software has been well received by users. Face recognition app is generally used by companies as a part of their security. Many companies all over the world have developed similar apps to take advantage of this opportunity. A few decades ago, the face recognition app would've sounded too good to be true. Now, it's a reality and one which keeps on getting better as technology grows.
Mobile apps for face recognition provide users with the ability to keep themselves safe from unwanted intruders. Mobile phones used to be easily accessed; however, it is tough to break into a phone which employs face recognition technology.
Facial Recognition App Users
Apart from security reasons, face recognition helps in diagnosing patients, safeguarding from malware attacks, and helps in catching criminals. This technology is employed by airports of various countries as well to easily recognize the person in case of any criminal activity. Similarly, companies allow employees to use this technology for entering the premises or special locations where only authorized personnel may enter.
There's still ongoing research on further improving this technology. In 2020, the biometrics industry was worth $36.6 billion and it is estimated to be a whopping $68.6 billion industry in 2027. In less than a decade, the market will grow more than double – indicating the importance of this industry now and in the future.
In terms of user experience, a face recognition app is considered to be important since it has a sense of security to it. These days, most mobile phones come with built-in face recognition which is used to unlock mobile and its application in no time. It is only fair that we give you a list of the most famous face detection app along with the features so you can choose which one suits you the best. Let's take a look!
10 Best Face Recognition App in 2022
Almost every smartphone supports a facial app that can help secure your private information in your mobile phone. It is an important part of security for most users so we will discuss the features of these apps.
Here are the 10 most popular face recognition apps that you can use in 2022.
Luxand FaceSDK

Source: Luxand Face SDK
Luxand is a game-changer in the field of face recognition apps. Having many apps under their name, it can be said that the company is no stranger to quality app development. Luxand is used by many people as it has multiple purposes. The most important purpose of this app is surveillance. Here are the features of Luxand FaceSDK:
- Facial Recognition: In order to make things interesting, you can store your face in the app from different angles so it can recognize you from any angle in the future. You can put a name on your detected face and store it.
- Avatar API: This allows the user's face to be converted into a 3D animated avatar.
- Face Aging API: Ability to see how you would look as you age older.
- Face Enhancement API: You can remove facial imperfections with the help of this technology such as improving skin tone and enhancing photos.
Applock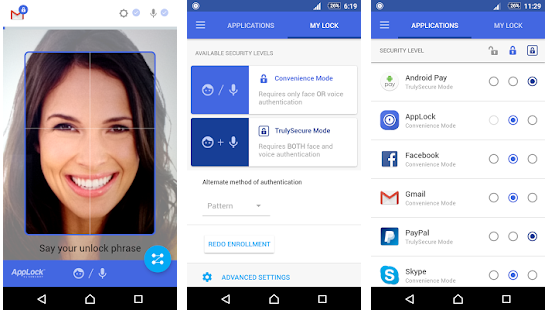 Source: Applock
Applock is one of the best facial app that is available on the Android platform. In terms of security, it is quite hard to beat. In order to keep your personal information safe, it can restrict the access of other people. You can secure your personal information, account data, and other applications as well. Applock supports voice recognition as well facial recognition which you can easily use to access your mobile. Here are the features of Applock:
- To ensure a seamless and secure experience, Applock combines face recognition technology with speakers.
- You can create a backup authentication option which can be useful in cases where your voice or facial recognitions are not possible. You will never be locked out of your mobile device or applications.
- Applock works in offline mode so you don't need to rely on an internet connection to access it.
Time Dynamo

Source: Time Dynamo
Time Dynamo is used by companies and institutions as an attendance software. Biometrics technology is used in this software to recognize people. Further, employees' check-in and check-out timings can be noted through the application along with other metrics. Companies can use the information stored in Time Dynamo to conduct a performance evaluation of employees. The only requirement of this app is to have data entered regularly. Here are the features of Time Dynamo:
- Attendance management
- Analytics and reports
- Leave requests and approvals
- Schedule management
Railer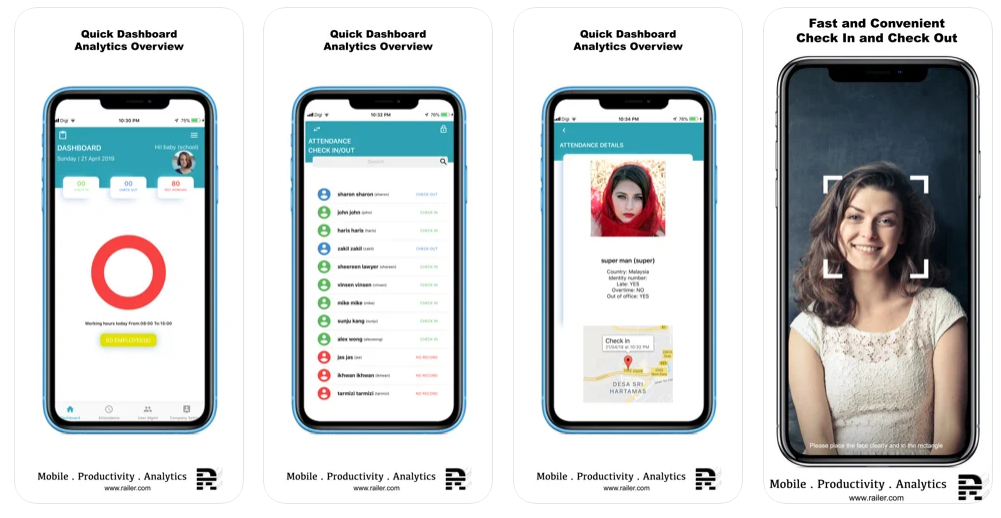 Source: Railer
Railer is a face detection app that works on both, android and apple smartphones making it easily accessible to everyone. Railer is used by institutions as a way to take attendance of students. Absent students are marked as such and regular attendance allows institutions to avoid making mistakes in the process. The best part about this app is that it works on automation and manual work is limited. Manual work can have errors and some issues however, the automated process of Railer allows a smooth error-free process. Features of Railer include:
- Error-free face detection
- No 'proxy' attendance
- Employees and students are kept in check regarding their attendance
- Minimal manual work
Face2Gene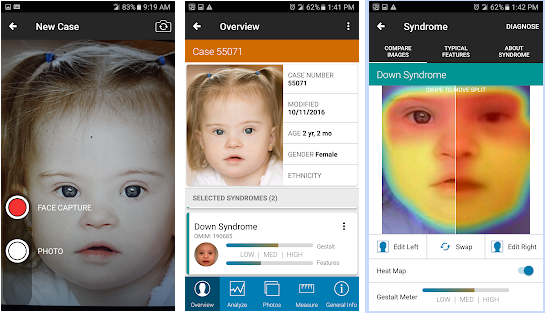 Source: Face2Gene
Face2Gene is another face scanner app that works for Android and iOS platforms. The only drawback of the Face2Gene app is that it is not accessible to the general public. It is specifically designed for healthcare professionals since the face recognition technology employed in this app allows doctors to easily diagnose patients for genetic disorders and their variants. The interface of the application is quite complex and it is hard to navigate through it without appropriate training. Features of Face2Gene include:
- Detects multiple genetic syndromes
- Patient's health analysis can be done based on the generic information
- Specifically designed and developed for health care professionals
MojiPop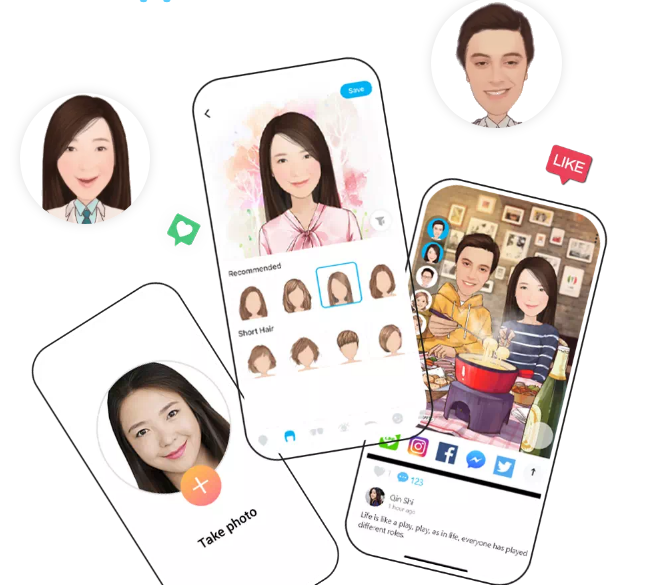 Source: MojiPop
Eureka Studios developed the MojiPop face scanner app. Eureka Studios has proven itself as a quality app developer in the UK and MojiPop is no different. It is free to use on both platforms, Android and iOS. MojiPop employs a lot of animated stickers that users can play around with to make things interesting. The layout of the app is fairly simple with easy-to-use navigation and an interactive keyboard which helps in keeping users engaged. Here are the features of MojiPop:
- Daily updated animated stickers
- Interactive keyboard
- Easy user interface
- Ability to convert stickers into different formats
FaceApp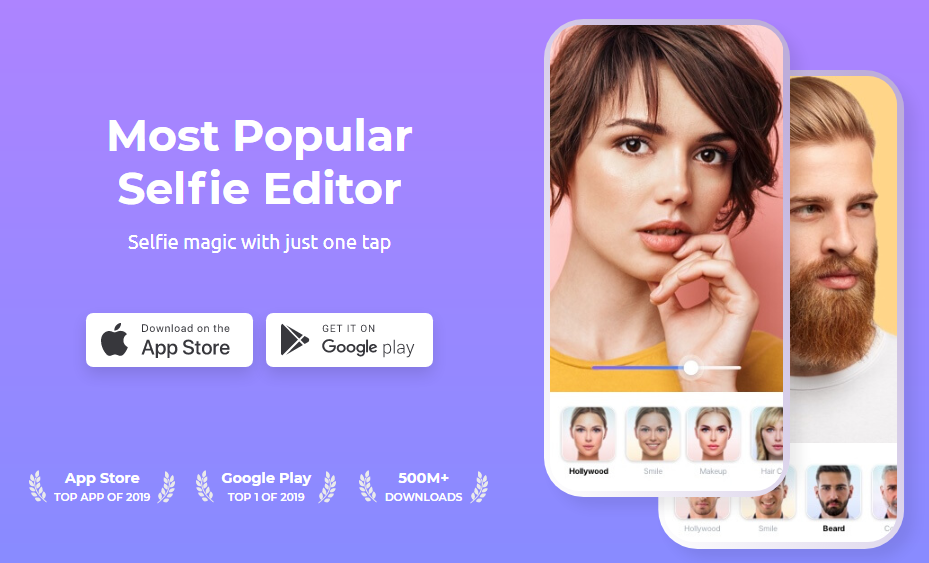 Source: FaceApp
Easily one of the most famous face recognition app there is. FaceApp was released in 2017 for the iOS platform only. As the app became more popular, it was made available for the Android platform as well. Even though there are many celebrity face recognition software in the stores, this one is quite famous because of its interactive design and exciting features. FaceApp gained massive fame after people started using the old-age lens that comes with this application. You can find out how you will look like when you are old. You can even play around with different lenses and backgrounds.
- Variety of filters to play with
- High-quality images
Face DNA Test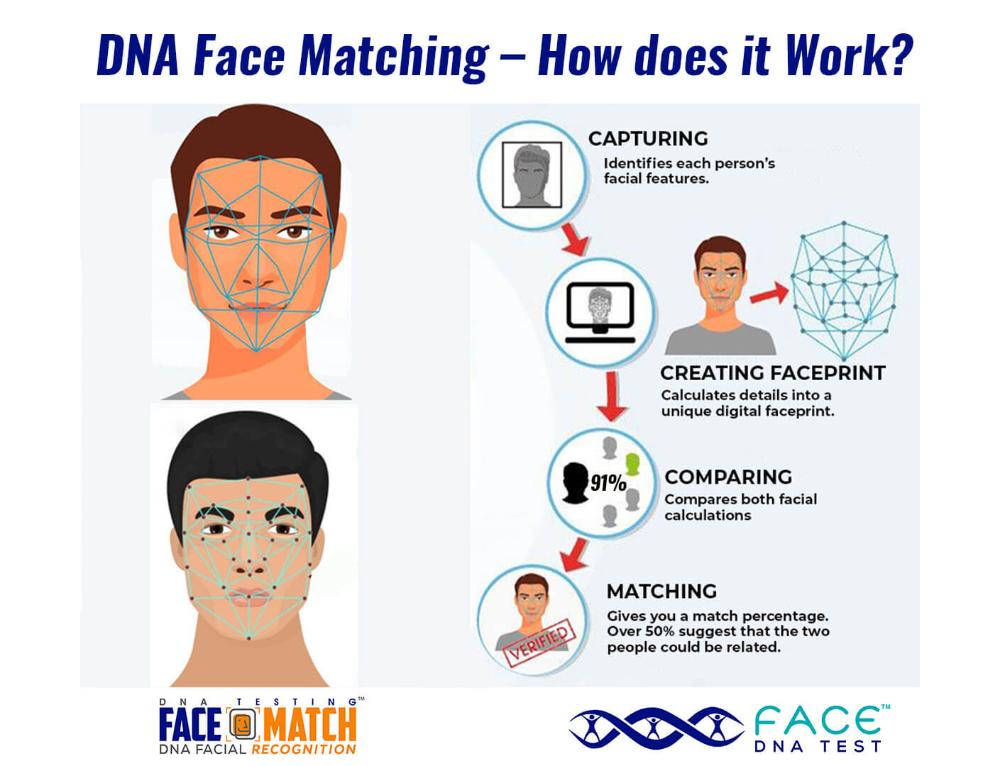 Source: Face DNA Test
Face DNA Test comes with many advanced features that are far more than what other similar apps have to offer. You can take your facial profile using this app and get unique facial points. You can also compare different faces to find out if someone is related to you. Further, you can check the relationship between family members by comparing their faces. Currently, it works on the Android platform only and it is not available to download on the iOS platform. Here are some important features of the Face DNA Test:
- Multiple DNA testing options
- Reliable face matching algorithm
- The application uses 68 different facial points for facial profiling
Blippar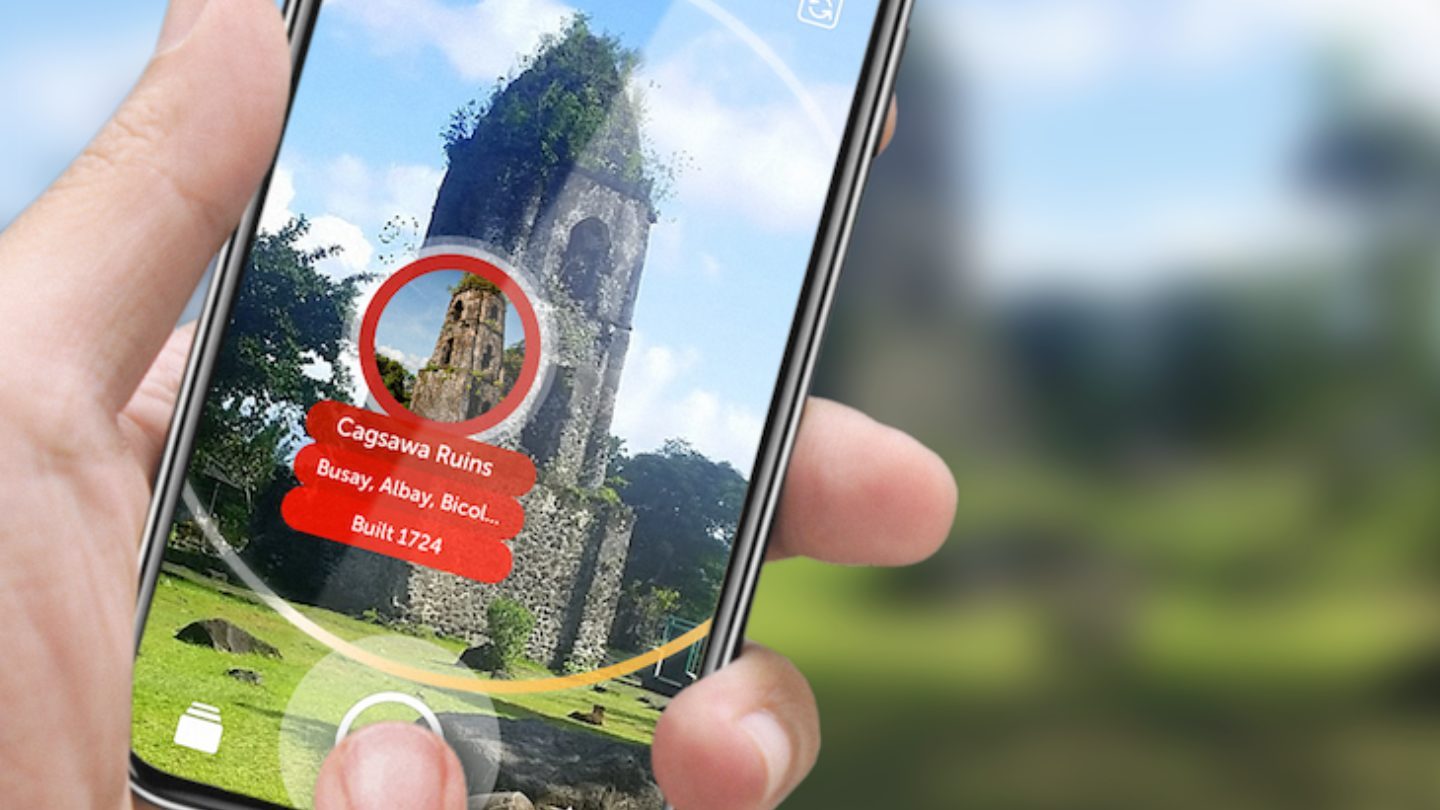 Source: Blippar
Blippar is an educational app. You can scan your surroundings and the app will tell you interesting things about it. The app contains information on many different things so you can scan the thing you want to get information for and Blippar will provide every piece of information on that subject. For example, if you want to find your dog's breed, just snap a picture of your dog and Blippar will tell you about the dog's breed. It also recognizes human faces as well company logos. If you want to find information about a brand, just take a picture of the logo and the results will be about that particular brand. It is available for Android and iOS platforms. Here are the features of Blippar:
- Scan human faces
- Augmented reality experience
- Information about many different subjects
FaceFirst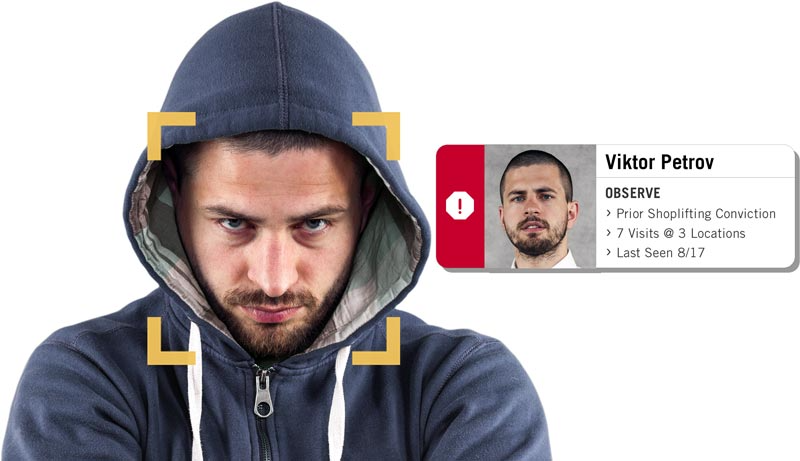 Source: FaceFirst
FaceFirst is used mostly by law enforcement and transportation centers because it is used to identify people from far away. It has a complex interface and it is difficult for normal users to use. The app's database allows easy face recognition. It also has real-time alerts and emails. Here are the features of Face First:
- Prevents identity theft
- Large database of known persons
Wrapping Up
Biometrics is constantly improving and it has become a really important feature for mobile phones, laptops, or computers. Face recognition apps provide extra security and several other exciting features that can help with privacy as well. Except for normal users, many institutions employ face recognition apps to correctly identify people.